---
---
2023 New Model  - Released in March 2023
It is a crisp and firm blank that can be used with a light force to sharpen lures that have high resistance during operation, such as the action of a large diving pencil around 260mm, jerking from the bottom of a sinking pencil, and the splash of a medium-caliber popper. It is a model that is capable of action and can be assembled in a wide variety of ways even in severe situations.

 

Because of its short length of 7ft 10in, it feels light and easy to maneuver, making it perfect for boats with low footholds and large ships.

 

The strong butt power that smoothly increases the torque by shifting the center of gravity and tightening the weight will not give you the initiative even to large fish.

 

Contrary to its medium-heavy power, it feels light to use, so it is easy to handle even for those who are not confident in their physical strength, and is a new dimension power rod that we recommend for those who are good at attracting and playing games with a higher response.
| | |
| --- | --- |
| Target | GT・Hiramasa |
| Guide specifications | SiC-S titanium frame K guide + RV guide specification (Fuji) |
| Lure | Diving pencil/small caliber popper |
| Drag max | 15kg/45° |

| Length | Weight | Section | Lure | Line | Action |
| --- | --- | --- | --- | --- | --- |
| 7ft10in (closed dimension 1685mm) | 378g | 2pcs grip joint | Comfort weight 80~160g | MAX PE 8 | Regular |
◎Applicable reel guideline S/D: 14000~18000
Grip length / 794mm (total grip length), 504mm (from grip end to reel foot)
Blank tip diameter / 2.9mm (just below the top guide), Blank original diameter / 14mm (original diameter is Outside diameter of the fishing rod body 865mm from the rod butt)
Reel seat / DPS20 (Fuji) Uplock
Grip end / BRC specification (resin ring attached)

*The lure weight Comfort Weight is a guideline for the weight that is easiest to throw, and is the casting limit. Not.
The Ultimo series will be reborn as an advanced boat casting rod series in 2023 as Ripple Fisher's new innovation.
Casting games in recent years have continued to evolve and change at a dizzying pace, and while diversifying and subdividing, we have expanded the range of strategies by increasing the number of situation-specific rods. With the new Ultimo, we have gone against this trend and focused on the high basic performance of the rod itself. A rod that is simple, light, and easier to throw than ever before, with improved long-distance performance.This high standard of basic performance is at the core of the new Ultimo.
There are three types of Ultimo to be released in 2023: 82ML, 83M, and 710MH. We strive for overwhelming performance while giving each rod its own individuality, and it is no exaggeration to say that this model is the pinnacle of Ripple Fisher's boat casting rod series.
The old Ultimo was a GT model that specialized in pencil operation, but the new Ultimo series is a model that can be used for both amberjack and GT, and is essential for controlling large fish with its lightweight, high balance, light casting feel, and strong bat power. While refining its performance, we sought to improve the "flying distance" which is the key to conquering casting games. Experience the power of the new Ultimo series, which will help you stand out from the rest in the ever-evolving world of boat casting games.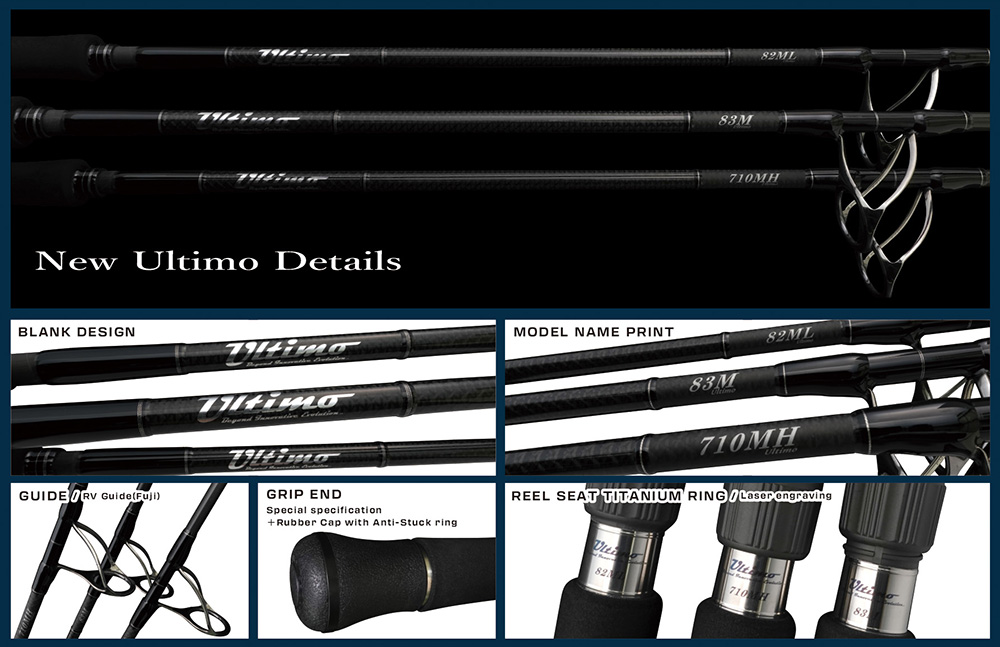 The life of the new Ultimo lies in its blank performance, which promises outstanding flight distance, and as Ripple Fisher Boat Casting's flagship model, we have paid particular attention to everything from the guide specifications to the paint and parts.

-The Ultimo logo is finished in metallic silver, and the model name is painted matte under the butt guide.
●All models have SiC-S titanium frame K + SiC-RV guide specifications to achieve the best thread removal.
●A titanium ring with the model name engraved is attached to the bottom of the reel seat.
●By fitting a resin ring into the rubber cap of the grip end, we have eliminated the sticking of the gimbal belt and the grip end during a fight, making it smooth to insert and remove from the fight to landing.
Ultimo Bending Curve
Ultimo 6kg static load comparison
The Ultimo series has high repulsion blank characteristics with an emphasis on castability, and during a fight, the repulsion directly transmits the angler's operation as a load to the fish. It is easy to maintain tension, has excellent performance in switching from reservoir to lift with high response, and is easy to handle regardless of the angler who uses it.

*All bending images are comparisons with a static load applied with the reel set on the rod. It does not represent all of the rod characteristics such as repulsive force, so please refer to the rod specs and power class settings above in addition to comparing bending. The way the load is actually applied when bending the rod varies from person to person, so please use the static load comparison as a guide only.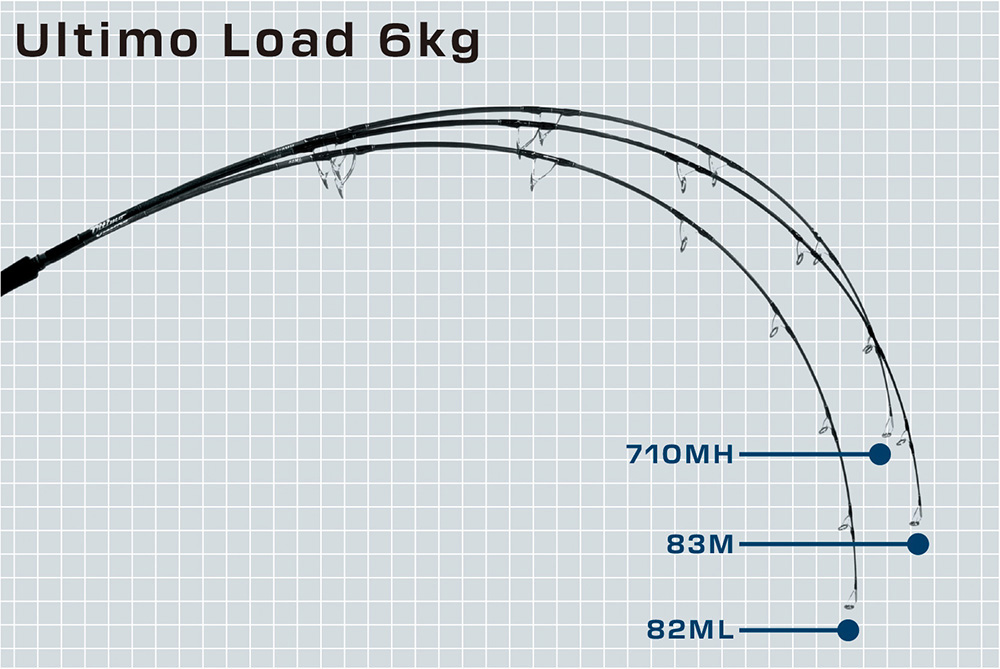 ---